Here are Before and After movies of damaged pipelines, made with a pipe camera, the kind normally employed during the pipe inspection process. Notice the pipe camera movies display the distance in feet as the inspection camera is deployed in the pipe line.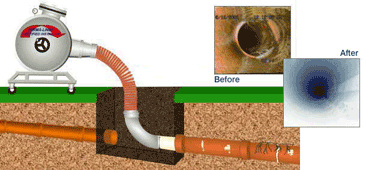 Single point entrance accommodates both the pipe inspection camera and the pipe relining delivery system. If you don't have an entry point from your basement or crawl space this would likely be the only digging that is required.
It is this "Trenchless Technology" that affords the great saving in time, trouble and resources that make Donghia Environmental and their Perma-Liner System so attractive to homeowners. Not that business and industry couldn't also benefit, they can.
Millcreek, Sharon and Hermitage, PA stand out in the NorthWestern Pennsylvania area where overwhelmed wastewater treatment plants are distressing municipalities and that distress is quickly trickled down to area homeowners. Some have passed laws regulating the transfer of property or even inpections and repair of leaky pipelines by current owners. At the owners expense!
This No Dig, Trenchless, Pipe Relining System can turn debilitating expence into affordable home improvement.
The pipe camera movies start out the same but give it a minute, they are different.