Perma-Liner System Approach...
A project can be completed in less than one day. The Line is cleaned, and inspected with a mini inspection system camera. The measurement of the lateral length is taken. The Perma-LinerTM System liner material is then measured and cut on site. The proper amount of resin is measured and cut on site. The tubular liner is impregnated with the resin and loaded into our Perma-Lateral System inversion unit. The material is then launched from a single access point through 22's, 45's and sweeping 90's. The Liner is ambient cured for 3 hours. Your lateral is then put back into operation that same day...
? No extensive excavation ? No cutting the liner open at the mainline connection ? Same Day Service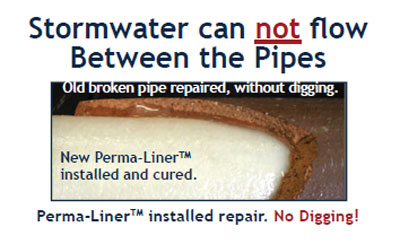 The need for repairing cracked pipe, missing pipe, broken pipe, missing sections, root intrusion and water infiltration/ exfiltrationwithout extensive excavation or property damageis growing. Donghia Environmental Services is equipped with the proven Perma-LinerTM solution for repairing lateral service pipelines.
Perma-Lateral System Benefits
? Eliminates Root Intrusion ? Stops Infiltration/ Ex-fi ltration ? Renews Pipe Life to Minimum 50 Years per ASTM 1216 Third Party Testing ? 22,45 AND SWEEPING 90 DEGREE BENDS ? Stand Alone Design / No Host Pipe Needed ? Bridges Missing Sections of Pipe ? Relines Virtually Any Material, Clay Cast Etc. ? 2", 3", 4", 5", 6", 7", 8", 9", 10', 11', AND 12" Diameters Available ? IAPMO Approved ? NSF Standard 14 Certification